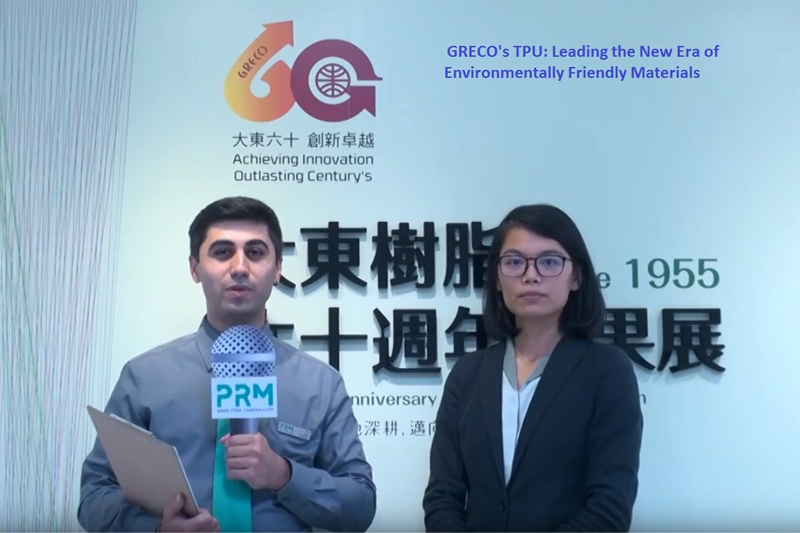 We have the opportunity to Interview Ms. Angie Lai, from Greco, she is working as sales representative in Plastics Division, and is currently in charge of the European Market.
Greco is a company founded in 1955, being the first manufacturing company specially producing shoes adhesive, having developed market in over 11 countries, and 20 offices around the world.
Right now, the company has 4 different production lines, these are Adhesives, Dry Film Photoresist, specialty chemicals and plastic materials.
Nowadays one of the main concerns in the industry right now is environmental protection, which Greco is trying to set it as its main focus "We are very dedicated in environment protection and work safety", Angie Lai mentions.
With this, the company has achieved different ISO, such as 9001, 14001, 18001.
Benefits of using TPU products in comparison with traditional products
During the interview, Ms. Lai mentions several benefits of using TPU products, we can list those as the following:
High environmental friendly materials
Excellent tear, absorption and chemical resistance
Expanding eco-solution and reducing processing time
Future plans and innovation ideas about TPU.
Working with TPU product as a solution for environmental problems, Greco "continues persuading innovation and creating a greener and sustainable future in the energy-saving industry" Ms. Lai said. Besides, into their products Greco focuses on Expanded TPU which can be processed by injection molding machines to produce environmentally friendly materials. One of the advantages of using this is that it remains the resilience over 60% and at the same time keeps the flexibility even under low temperature.
Greco, "also has other highlighted materials such as Isothane ETPU, it has a lot of features such as lowtemperature flexibility and excellent resilience properties. This new feature is creating more practical usage for TPU, such as application of protection films in the automotive industry, and also in wearable devices", Ms. Lai says.
Moreover, the applications of their TPU includes also long fiber reinforcement for several industries such as wind turbines and automotive industries. For the wind turbines, it enables to achieve wind resistance by offering lighter materials. For the automotive parts, TPU provides excellent rigidity, steepness and dimensional stability, as it is also a great metal replacement in automotive applications.
Another range of the company's products is medical grades which is USP6 approved and it is suitable for injection molding processing. Ms. Lai says that "Greco currently has some projects with these materials using in medical tubes."
What is coming next for TPU products?
Greco has a very clear vision of where the industry needs to aim. "According to the newest research, the consumption of breathable TPU will increase to 2.3 billion in 2024, and there are so many textile manufacturers already switched their traditional processing methods into environmentally friendly materials. For instance, instead of using toxic chemicals coating they started to use TPU" Ms. Lai stated.
The ultimate goal for the future is to continue creating a greener and sustainable total solutions to the world. It is promising that companies like Greco make emphasis on environmental protection and conscious of it; starting from now, to make a good impact on the future generations.