Footwear manufacturing is one of the sectors that still relies on intensive labour during the production processes as there are technical barriers that shoe-making machines are yet to overcome. Challenges also emerge as fierce competitions push companies to outsource productions to low cost wages regions globally. These characteristics in the footwear industry raised questions inevitably now witnessing technological breakthroughs and public awareness of workers' right. The nature of footwear industry is at present undergoing fundamental changes. Apart from the improvement in workplace practices and regulation wise that ensure the workers welfare, there are equally urgent tasks for manufacturers and suppliers to target on refining the technology, constructing new formula of raw material components, in turn to reform the style of production from the upstream.
In order to acquire a greater picture of the reforms, the editorial team visited GRECO (Great Eastern Resins Industrial Co.Ltd), the company is known for being one of the first shoe adhesive manufacturers in Taiwan. Apart from its signature product - adhesive, GRECO has diversified its product lines and positioned itself as the supplier of TPU resins, dry film photoresist, and special chemicals. In adhesive, 90% sales of GRECO's adhesive are facilitated in the footwear industry, and 10% used as bonding medium. Over the 64 years of establishment, GRECO has become the supplier of top footwear brands (Nike, Adidas, Clarks, Columbia, H&M etc. just to name a few). Having tight cooperation with footwear giants, the company therefore stays at the forefront of shoe manufacturing, sensible about all major and subtle changes in trends or technology. We arrived at GRECO to get an insight into the latest development happening in the shoe manufacturing industry.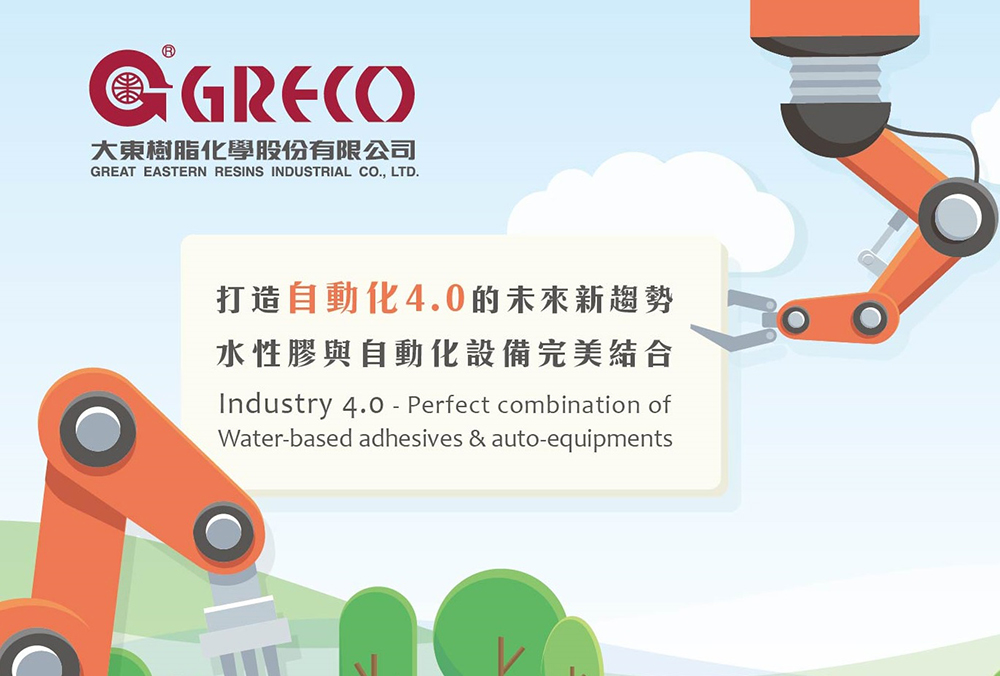 (Pic1. Perfect combination of water-based adhesives & auto-equipments)
"As an adhesive provider, there are three main objectives at present regarding the reform in the footwear sector," said Ken Ho – the business director. " The first is to continue developing water-based product package, secondly to introduce adhesive that is suitable for automatic production line, and thirdly to focus on energy saving and simplify shoe making process. These three goals highlight the trend of future shoe making adhesives development.

(Pic2. W/B Cements-service analysis of GRECO)
GRECO's water-based adhesive has already undergone research and development over 20 years, 6263S is a water-based UV primer, 65-70% of the item is composed by H2O with low organic solvent content (less than 25%) which is safer and more environmentally friendly. 6263S can be applied in spraying machine, and for CMP, IP, IU, traditional phylon and die-cut EVA surface treatment.
The second target is on exploring broader possibilities for automation facilitated in footwear manufacturing. It designed to improve the semi-automatic condition, and move on to construct a fully automatic production line. For GRECO, it is thus the priority to manifest the maximum performance for machine-use-adhesive. The latest product is GE01H, a single component water based PU adhesive for spray application. GE01H is applicable in assembling of rubber, PU foam, EVA, leather, synthetic leather and fabric, etc. The benefit is that it does not yellow, and eliminates glue clot on rubber soles. By radically enhancing the performance of raw materials, labour power, extra resource and energy waste are simultaneously reduced, which runs in line with the concept of Industry 4.0.
Finally, the recent innovations have a common goal to achieve – that is to simplify the production processes. "For the footwear manufacturing sector, the factories of top shoe brands are all subjected to reconstruct production processes, equipment and raw materials in order to fulfill the requirements of automation," Ken emphasized. " Automation implies a number of alternations from the raw material provider. We have thus formulated different options of adhesives to make them adjustable in machine and spray applications." GE01H successfully eliminates the need of adding additional hardener. With narrow viscosity range and double filtration, GE01H demonstrates better cementing performance via automatic spray.
Once heavily relied on labor force, the footwear industry is trying to merge advanced manufacturing into the sector. More discussions will be on exploring adhesives with suitable properties to fit in the production line, without neglecting the delicacy of craftsmanship. These innovations from GRECO are constantly introduced into top shoe brands' Asian factories; furthermore, GRECO will continue to explore market opportunities by setting up the distribution channels in central China (Sichuan, Guangxi), Southeast Asia, central Java and Southern India. Paving the way for a more sustainable footwear sector socially and environmentally, GRECO, like many other R&D driven companies provided the traditionally labour-intense footwear sector a completely new face.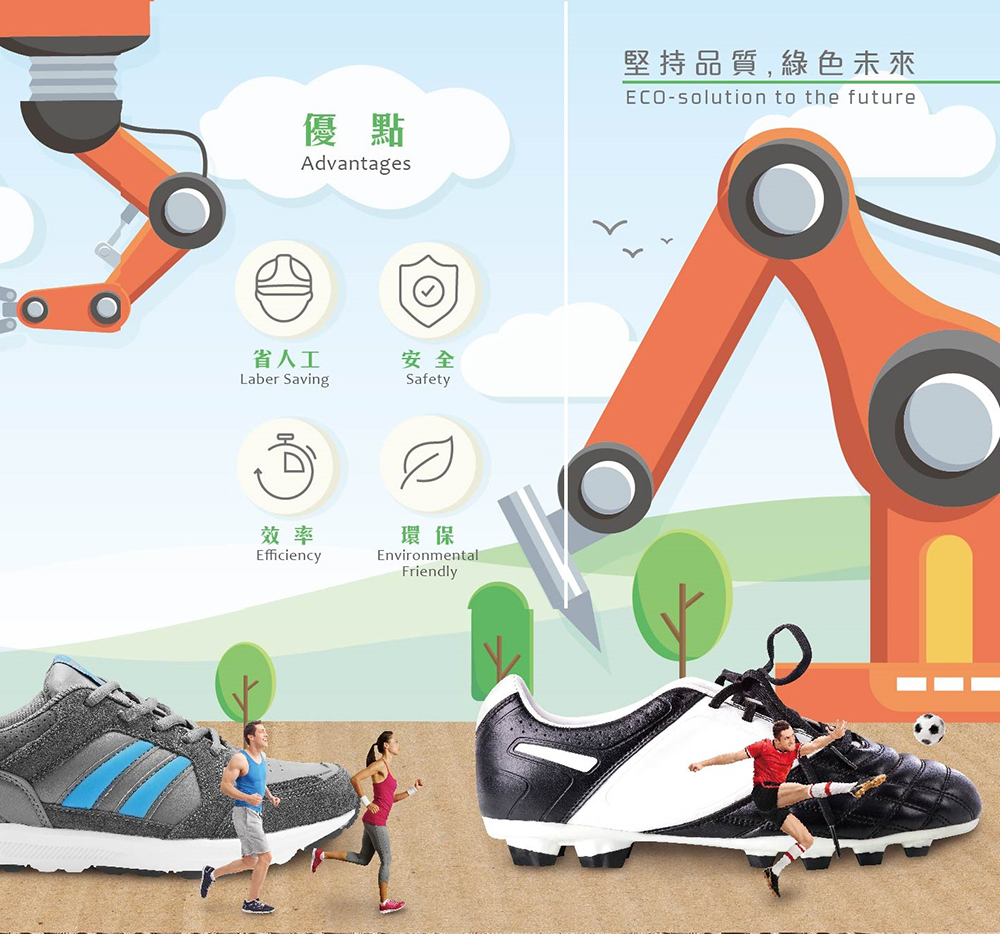 (Pic3. SCA , Single Component Adhesive advantages)