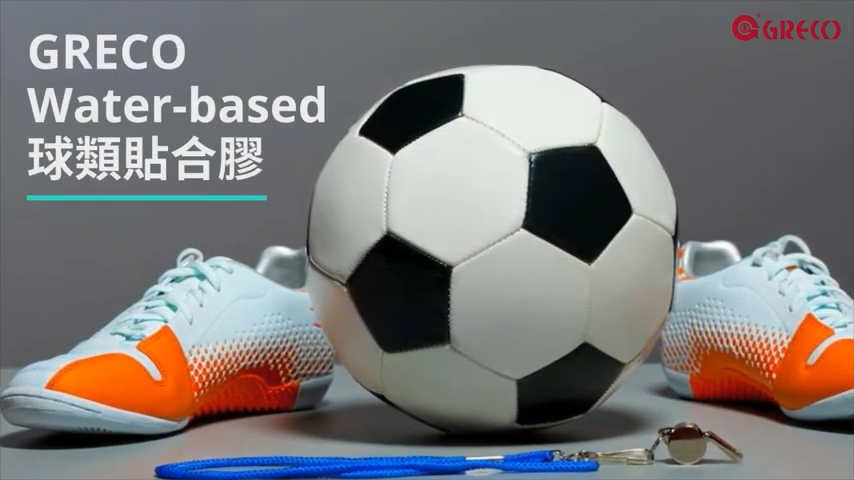 GRECO has been promoting water-based adhesive solutions for more than 20 years and witnessed the use of more than 2 billion pairs of branded sports shoes. It is estimated that more than 8,000 tons of VOC volatilization in the environment can be reduced each year.
Due to mastering key technologies, GRECO continues to develop and launch more environmentally-friendly water-based adhesive. Nowadays, GRECO establishes completed water-based production facilities for footballs and basketballs.
About the water-based adhesive for football, the forming process needs to reach three technical thresholds:
1.The EVA leather sheet must have sufficient adhesion to meet the needs of repeated adhesion.
2.It must reach enough tack and initial adhesion to meet the ball making process.
3.It must have sufficient heat and humidity resistance and tensile strength to meet the test of the finished ball.
GRECO's water-based football molding glue uses PUD as the main component, which is used to fit the football skin and the inner liner of the impregnated glue. After the online test, GRECO's adhesive meets the requirements of online operation:
1.The bonding time is up to 30 minutes.
2.finishing ball needs to pass 3,000 times beating test.
3.The physical property test such as heat and humidity resistance is needed.
See the video for details, thank you!
https://www.youtube.com/watch?v=vPqbPIEnOuc