Adhesive bonding remains the most widely used technology attaching shoe soles to uppers.
Providing correct preparation and operation, the joint will have uniform strength and be flexible and durable.

Liquid, solvent-based or water-based adhesives are predominantly used for sole attachment and brushed on either manually or automatically. Solvent in adhesive dissolve polymers and give it the mobility needed. When the solvent dries, the polymer molecules come together to form a coherent solid, bondable film.

The main drawbacks are the flammability and toxicity of the organic solvent vapors or VOC (Volatile organic compounds), requiring good ventilation and mechanical extraction. Environmental concerns about vented VOC have pressurized the industry to reduce solvent-based ones. Thus, more eco-friendly adhesive products such as Water-based adhesive, Water-based primer and HMA are introduced to the industry to meet performances and environmental requirements.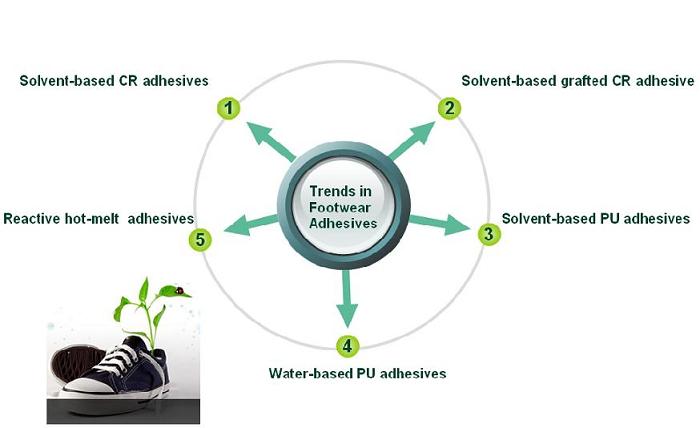 GRCEO commits to developing environmentally friendly products. GRECO offers the one of the best GREEN choice in the shoe bonding field and GRECO's WB products have been used to make more than 2 billion pairs of shoes for past 2 decades. Recently, GRECO presents the new WB cement system for vulcanized shoe. The flexibility (100,000 times) of vulcanized shoe applied WB cement is better than the SB one (50,000-80,000 times). The reduction of VOC consumption also is from 50 g/pair to 8 g/pair. The new system is already commercialized in shoe factory with better quality and eco-feature.